Christmas Lighting Made Simple Using A Foot Switch
While lighting your outdoor Christmas decorations, using the PBA-01 converter box paired with an air foot switch, wiring is made safe and easy. Simply attach the foot pedal's air tubing into the plug in box. Plug the converter box into an outlet and plug your outdoor decoration into the converter box. The converter box is then ready to perform on and off control to the Christmas decoration with the step of the foot; and can easily be disguised on your front porch or near your back door.
Because our switches are weatherproof, they are a perfect for solving outdoor lighting control problems.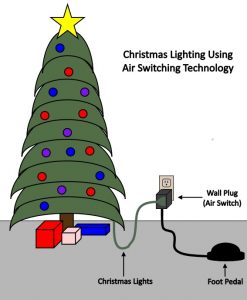 The system comes with a variety of different lengths of air tubing to fit your needs.
Click an option below to view more product details, or contact us to inquire about your application!