As an easy guide for you we have created this simple cross reference guide to help you find the part you need. If you have one of the part numbers listed below, simply match it to our part number.
Presair designs and manufactures adjustable pressure and vacuum switches. Presair switches are UL and CUL Recognized. All switches are made in the United States and our direct customer service would be happy to help you find the right switch for your application.
These compact pressure and vacuum switches are produced to exacting standards to meet the needs of original equipment manufacturers and instrument makers for a low cost, stable, repeatable switch. Plastic mechanisms and housings are acetal to minimize moisture absorption and maintain dimensional stability. Plastic welding is accomplished using advanced microprocessor controlled ultrasonic welding equipment. All switches are 100% tested at high and low settings and at the proof pressure. Units are delivered with the setpoint at the low end of the adjustable range. The pressure switches and vacuum switches are field adjustable using the hex head set screw at the center of the pressure switch.
CUSTOM PRESSURE & VACUUM SWITCHES
Custom pressure and vacuum switches are available; please contact us for price and delivery. Custom options include factory setting at specified setpoint and DPDT switches can be configured for different pressure settings.
Click an option below to view more product details or purchase in our online shop.
Can't find your part number listed? Give our direct support a call with your switch or application requirements and one of our customer service representatives will assist you!
**Tip: Search this list for your part number using the Find function of your browser – Google Chrome's shortcut is ctrl-f.
---
Pressure and Vacuum Switches
Compact, Rugged, Adjustable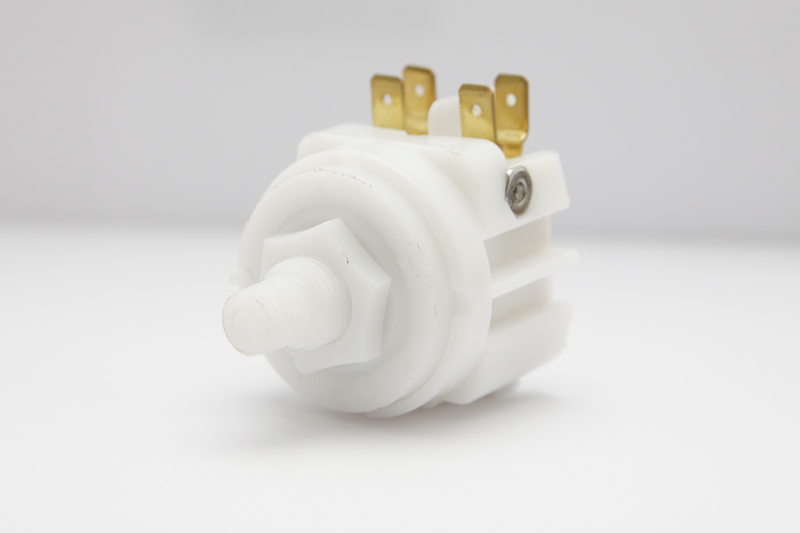 Find your part number listed below for the direct replacement option:
Your Part Number
Our Part Number
Item Description
Buy Now
6731 Series & 6732 Series
Adjustable Pressure Switches
Adjustable low pressure switches 

Range: 1.5 inches of water to 16 psig

Switch Rating: 21A@250VAC

Contact Us
6741 Series & 6742 Series
Adjustable Pressure Switches
Adjustable medium pressure switches 

Range: 1.5 Psi to 125 Psi

Switch Rating: 21A@250VAC

Contact Us
3000 Series
Adjustable Pressure Switches
Adjustable pressure switches

Range: 2 inches of water to 100 psi

Switch Rating: 21A@250VAC

Contact Us
3900 Series
Adjustable Pressure Switches
Adjustable pressure switches

Range: 6 inches of water to 5 psi

Switch Rating: 21A@250VAC

Contact Us
4000 Series
Adjustable Pressure Switches
Adjustable pressure switches

Range: 6 inches of water to 5 psi

Switch Rating: 21A@250VAC

Contact Us
V4000 Series
Adjustable Vacuum Switches
Adjustable vacuum switches

Range: 2 inches of water to 300 inches of water.

Switch Rating: 21A@250VAC

Contact Us
PSW21A
PM10103E
Pressure Switch with SPDT Switch, 1/8 MNPT Fitting and 9/16 Threaded Mounting Nut

Range: 3-7 inches of water rising

Switch Rating: 3A@250VAC (resistive)

Contact Us
PSW21B
PM10306A
Pressure Switch with SPDT Switch, 1/8 MNPT Fitting and 9/16 Threaded Mounting Nut

Range: 5-35 inches of water rising

Switch Rating: 5A@250VAC (resistive)

Contact Us
PSW21C
PM11120E
Pressure Switch with SPDT Switch, 1/8 MNPT Fitting and 9/16 Threaded Mounting Nut

Range: 1-6 Psig Rising

Switch Rating: 21A@250VAC (resistive)

$44.95
PSW21D
PM12540E
Pressure Switch with SPDT Switch, 1/8 MNPT Fitting and 9/16 Threaded Mounting Nut

Range: 4-11 Psig Rising

Switch Rating: 25A@250VAC (resistive)

Contact Us
PSW21E
PM12550E
Pressure Switch with SPDT Switch, 1/8 MNPT Fitting and 9/16 Threaded Mounting Nut

Range: 9-18 Psig Rising

Switch Rating: 25A@250VAC (resistive)

Contact Us
PSW21F
PM12560E
Pressure Switch with SPDT Switch, 1/8 MNPT Fitting and 9/16 Threaded Mounting Nut

Range: 15-28 Psig Rising

Switch Rating: 25A@250VAC (resistive)

Contact Us
PSW21G
PM12570E
Pressure Switch with SPDT Switch, 1/8 MNPT Fitting and 9/16 Threaded Mounting Nut

Range: 25-40 Psig Rising

Switch Rating: 25A@250VAC (resistive)

Contact Us
PSW21H
PM12580E
Pressure Switch with SPDT Switch, 1/8 MNPT Fitting and 9/16 Threaded Mounting Nut

Range: 35-65 Psig Rising

Switch Rating: 25A@250VAC (resistive)

Contact Us
PSW21J
PM12590E
Pressure Switch with SPDT Switch, 1/8 MNPT Fitting and 9/16 Threaded Mounting Nut

Range: 50-100 Psig Rising

Switch Rating: 25A@250VAC (resistive)

Contact Us
PSW21K
PM12595E
Pressure Switch with SPDT Switch, 1/8 MNPT Fitting and 9/16 Threaded Mounting Nut

Range: 75-120 Psig Rising

Switch Rating: 25A@250VAC (resistive)

Contact Us
PSW21L
VM10103E
Vacuum Switch with SPDT Switch, 1/8 MNPT Fitting and 9/16 Threaded Mounting Nut

Range: 5-7 inches of water rising

Switch Rating: 3A@250VAC (resistive)

Contact Us
PSW21M
VM10306E
Vacuum Switch with SPDT Switch, 1/8 MNPT Fitting and 9/16 Threaded Mounting Nut

Range: 6-16 inches of water rising

Switch Rating: 5A@250VAC (resistive)

Contact Us
PSW21N
VM10510E
Vacuum Switch with SPDT Switch, 1/8 MNPT Fitting and 9/16 Threaded Mounting Nut

Range: 13-25 inches of water rising

Switch Rating: 10A@250VAC (resistive)

Contact Us
PSW21P
VM11115E
Vacuum Switch with SPDT Switch, 1/8 MNPT Fitting and 9/16 Threaded Mounting Nut

Range: 20-40 inches of water rising

Switch Rating: 21A@250VAC (resistive)

$44.95
PSW21Q
VM11120E
Vacuum Switch with SPDT Switch, 1/8 MNPT Fitting and 9/16 Threaded Mounting Nut

Range: 35-80 inches of water rising

Switch Rating: 21A@250VAC (resistive)

$44.95
PSW21R
VM11130E
Vacuum Switch with SPDT Switch, 1/8 MNPT Fitting and 9/16 Threaded Mounting Nut

Range: 75-150 inches of water rising

Switch Rating: 21A@250VAC (resistive)

$44.95
PSW21T
VM11140E
Vacuum Switch with SPDT Switch, 1/8 MNPT Fitting and 9/16 Threaded Mounting Nut

Range: 145-300 inches of water rising

Switch Rating: 21A@250VAC (resistive)

$44.95
PSW21BD
PM21306E
Pressure Switch with DPDT Switch, 1/8 MNPT Fitting and 9/16 Threaded Mounting Nut

Range: 5-35 inches of water rising

Switch Rating: 5A@250VAC (resistive)

Contact Us
PSW21CD
PM21120E
Pressure Switch with DPDT Switch, 1/8 MNPT Fitting and 9/16 Threaded Mounting Nut

Range: 1-6 Psig Rising

Switch Rating: 21A@250VAC (resistive)

$49.95
PSW21DD
PM22540E
Pressure Switch with DPDT Switch, 1/8 MNPT Fitting and 9/16 Threaded Mounting Nut

Range: 4-11 Psig Rising

Switch Rating: 25A@250VAC (resistive)

Contact Us
PSW21ED
PM22550E
Pressure Switch with DPDT Switch, 1/8 MNPT Fitting and 9/16 Threaded Mounting Nut

Range: 9-18 Psig Rising

Switch Rating: 25A@250VAC (resistive)

Contact Us
PSW21FD
PM22560E
Pressure Switch with DPDT Switch, 1/8 MNPT Fitting and 9/16 Threaded Mounting Nut

Range: 15-28 Psig Rising

Switch Rating: 25A@250VAC (resistive)

Contact Us
PSW21GD
PM22570E
Pressure Switch with DPDT Switch, 1/8 MNPT Fitting and 9/16 Threaded Mounting Nut

Range: 25-40 Psig Rising

Switch Rating: 25A@250VAC (resistive)

Contact Us
PSW21HD
PM22580E
Pressure Switch with DPDT Switch, 1/8 MNPT Fitting and 9/16 Threaded Mounting Nut

Range: 35-65 Psig Rising

Switch Rating: 25A@250VAC (resistive)

Contact Us
PSW21JD
PM22590E
Pressure Switch with DPDT Switch, 1/8 MNPT Fitting and 9/16 Threaded Mounting Nut

Range: 50-100 Psig Rising

Switch Rating: 25A@250VAC (resistive)

Contact Us
PSW21KD
PM22595E
Pressure Switch with DPDT Switch, 1/8 MNPT Fitting and 9/16 Threaded Mounting Nut

Range: 75-120 Psig Rising

Switch Rating: 25A@250VAC (resistive)

Contact Us
PSW21MD
VM21306E
Vacuum Switch with DPDT Switch, 1/8 MNPT Fitting and 9/16 Threaded Mounting Nut

Range: 6-16 inches of water rising

Switch Rating: 5A@250VAC (resistive)

Contact Us
PSW21ND
VM20510E
Vacuum Switch with DPDT Switch, 1/8 MNPT Fitting and 9/16 Threaded Mounting Nut

Range: 13-25 inches of water rising

Switch Rating: 10A@250VAC (resistive)

Contact Us
PSW21PD
VM21115E
Vacuum Switch with DPDT Switch, 1/8 MNPT Fitting and 9/16 Threaded Mounting Nut

Range: 20-40 inches of water rising

Switch Rating: 21A@250VAC (resistive)

$49.95
PSW21QD
VM21120E
Vacuum Switch with DPDT Switch, 1/8 MNPT Fitting and 9/16 Threaded Mounting Nut

Range: 35-80 inches of water rising

Switch Rating: 21A@250VAC (resistive)

$49.95
PSW21RD
VM21130E
Vacuum Switch with DPDT Switch, 1/8 MNPT Fitting and 9/16 Threaded Mounting Nut

Range: 75-150 inches of water rising

Switch Rating: 21A@250VAC (resistive)

$49.95
PSW21TD
VM21140E
Vacuum Switch with DPDT Switch, 1/8 MNPT Fitting and 9/16 Threaded Mounting Nut

Range: 145-300 inches of water rising

Switch Rating: 21A@250VAC (resistive)

$49.95
PSW22A
PT10103A
Pressure Switch with SPDT Switch, Center Spout Fitting and 9/16 Threaded Mounting Nut

Range: 3-7 inches of water rising

Switch Rating: 3A@250VAC (resistive)

Contact Us
PSW22B
PT10306A
Pressure Switch with SPDT Switch, Center Spout Fitting and 9/16 Threaded Mounting Nut

Range: 5-35 inches of water rising

Switch Rating: 5A@250VAC (resistive)

Contact Us
PSW22C
PT11120A
Pressure Switch with SPDT Switch, Center Spout Fitting and 9/16 Threaded Mounting Nut

Range: 1-6 Psig Rising

Switch Rating: 21A@250VAC (resistive)

Contact Us
PSW22D
PT12540A
Pressure Switch with SPDT Switch, Center Spout Fitting and 9/16 Threaded Mounting Nut

Range: 4-11 Psig Rising

Switch Rating: 25A@250VAC (resistive)

Contact Us
PSW22E
PT12550A
Pressure Switch with SPDT Switch, Center Spout Fitting and 9/16 Threaded Mounting Nut

Range: 9-18 Psig Rising

Switch Rating: 25A@250VAC (resistive)

Contact Us
PSW22F
PT12560A
Pressure Switch with SPDT Switch, Center Spout Fitting and 9/16 Threaded Mounting Nut

Range: 15-28 Psig Rising

Switch Rating: 25A@250VAC (resistive)

Contact Us
PSW22BD
PT21306A
Pressure Switch with DPDT Switch, Center Spout Fitting and 9/16 Threaded Mounting Nut

Range: 5-35 inches of water rising

Switch Rating: 5A@250VAC (resistive)

Contact Us
PSW22CD
PT21120A
Pressure Switch with DPDT Switch, Center Spout Fitting and 9/16 Threaded Mounting Nut

Range: 1-6 Psig Rising

Switch Rating: 21A@250VAC (resistive)

Contact Us
PSW22DD
PT22540A
Pressure Switch with DPDT Switch, Center Spout Fitting and 9/16 Threaded Mounting Nut

Range: 4-11 Psig Rising

Switch Rating: 25A@250VAC (resistive)

Contact Us
PSW22ED
PT22550A
Pressure Switch with DPDT Switch, Center Spout Fitting and 9/16 Threaded Mounting Nut

Range: 9-18 Psig Rising

Switch Rating: 25A@250VAC (resistive)

Contact Us
PSW22FD
PT22560A
Pressure Switch with DPDT Switch, Center Spout Fitting and 9/16 Threaded Mounting Nut

Range: 15-28 Psig Rising

Switch Rating: 25A@250VAC (resistive)

Contact Us