As an easy guide for you we have created this simple selection guide to help you find the air switch for garbage disposal that you need. If you have one of the part numbers listed below, simply match it to our part number.
Presair manufactures air switches for garbage disposal's to provide a safe switching mechanism in the hazardous, wet environment. Presair switches are UL and CUL Recognized. All switches are made in the United States and our direct customer service would be happy to help you find the right air switch for your garbage disposal.
The air switch for garbage disposal is a great solution for island sink installations! A variety of finishes are available to match your kitchen decor! If a finish is not listed, contact us for more options. The air switch is compatible with most garbage disposals, such as Badger, Waste King and Insinkerator.
Click an option below to view more product details or purchase in our online shop.
Can't find your part number listed? Give our direct support a call with your switch or application requirements and one of our customer service representatives will assist you!
**Tip: Search this list for your part number using the Find function of your browser – Google Chrome's shortcut is ctrl-f.
---
Air Switch for Garbage Disposal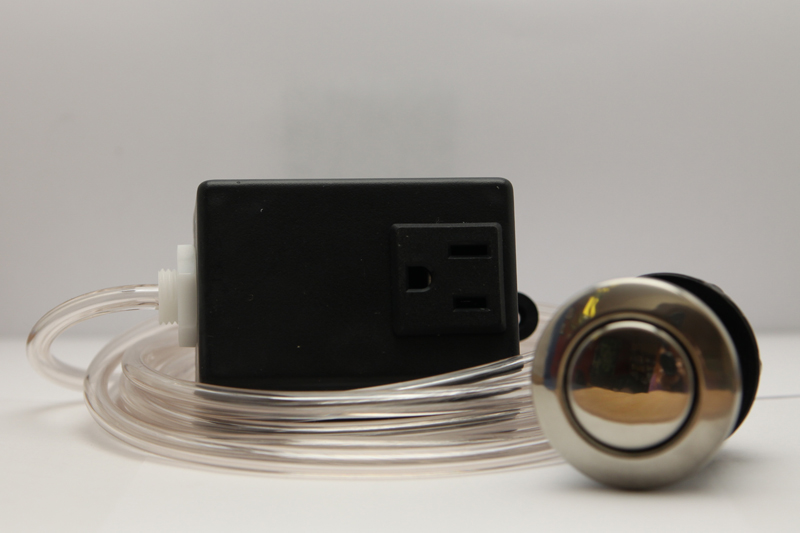 Find your part number listed below for the direct replacement option:
| Your Part Number | Our Part Number | Item Description | |
| --- | --- | --- | --- |
| CG01D002-HW | PBA-01/ B370WA | Disposer switch with white decorative transmitter | $49.45 |
| CG01D002-HC | PBA-01/ B370CA | Disposer switch with chrome decorative transmitter | $49.45 |
| CG01D002-HBN | PBA-01/ B370BN | Disposer switch with satin nickel decorative transmitter | $49.45 |
| Toe Kick Disposal Switch | PBA-01/ F800BA | Foot pedal operated garbage disposal switch | $49.45 |
| ARC-4200 |  PBA-01 |  Controller Unit | Contact Us |
| ARC-4200-CH/SN |  PBA-01/ B370CA |  Disposer switch with chrome push button | $49.45 |
| AS-4201-WH | B370WA | White push button switch | Contact Us |
| AS-4201-SN | B370BN | Brushed Nickel push button switch | Contact Us |
| AS-4201-CH | B370CA | Chrome push button switch | Contact Us |
| AS-4201-BR | B370PB | Brass push button switch | Contact Us |
| MT951 | PBA-01/ B370CA | Disposer switch with chrome push button | Contact Us |
| MT955 | B370CA | Chrome push button switch | Contact Us |