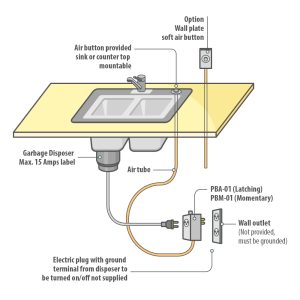 Presair air switch products create a safe switching mechanism where water, fire or other hazardous material may be present, such as a kitchen. Commonly used for garbage disposals, the air switch turns equipment on/off with the push of a button or other air bellow.
How it Works
The Presair air switch is joined by tubing from the air bellow, when pressed sends a pulse of air to the switch actuating the micro switch to control the equipment. The air bellow can be located anywhere within 100ft of the unit that is being controlled. Because the air bellow is isolated from the electrical current, when operated the user will not experience shock if hazardous material is present, such as water on a kitchen counter top.
The switch can be hard wired to control any equipment such as a garbage disposal, overhead sink light or even outdoor tools! Presair also offers an electric to pneumatic air switch converter box. This converts electrical equipment or an appliance to a device controlled by the shockproof air button by plugging the equipment into a receptacle box which contains an air switch, which in turns plugs into a stand electrical outlet. For more information about our electric to pneumatic converter box view our product page.
Presair now brings air switching and control technology to the home with SafeAire products. You'll rest easy knowing that your family is safe from electric shock electrical when using electric equipment in wet environments.
Presair's Air Switch Kits use a pulse of air to switch electricity on and off, safely isolating the user from the electrical current. Safe, versatile and easy to use, Presair's electric to pneumatic converter box works with many different appliances, such as TVs, lights, computers, stereos, garbage disposers, drill presses, and scroll saws. The air switch box instantly converts any standard 120 volt grounded outlet to a switchable connection.
Simply attach the air tubing, plug the electric to pneumatic converter box into the outlet, plug your appliance in and Presair's air switching technology is ready to perform on/off control of your appliance.