Why a Sink Top Air Switch rather than Electrical Wall Switch?
A garbage disposal air switch activates your disposal by pressing a button, which sends a pulse of air through PVC tubing to a control box underneath your sink which contains an air pressure switch. The disposal air switch is compatible with most garbage disposals and installation is easy!
SAFE ACTIVATION using A Sink Top air switch
Air switches do not rely on electricity therefore they can be mounted on the counter or sink surfaces. The mounting style allows easy access compared to the traditional wall switch. The wall switch is best mounted off the surface area of a counter or sink (to avoid the wet environment), which can make them an inconvenience. If the switch were installed near the sink, exposure to water and other liquid, with the potential of a shock hazard! Using a disposal air switch you remove the risk of electrical shock because there is no current at the point of actuation. The garbage disposal air switch is a great solution for island sink installations.
VARIETY OF BUTTON FINISHES
Garbage Disposal Buttons can be purchased individually or in a complete assembly to activate your garbage disposal safely. Buttons are available in a number of different finishes to match your kitchen decor. View our garbage disposal buttons here!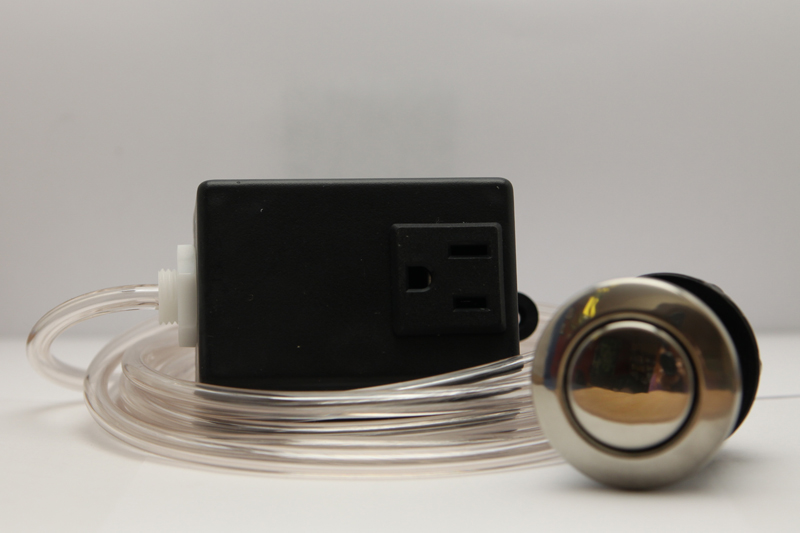 Sink TOp air switch kit 
Air switch for safe activation.
Freedom mount with attached power cord that allows flexibility in mounting your air switch.
Spring loaded brass center post, made to be used with continuous feed waste disposers.
UL approved.
No tools are required for installation.
1-3/8 in. mounting hole.
MADE IN THE USA.
Check out more articles on our garbage disposal air switches and push buttons at the links below.
Troubleshooting Your Garbage Disposal Air Switch
Garbage Disposal Switch Options