Why do you need a foot pedal for your laser epilation equipment? Long term laser hair removal is becoming more popular these days in the field of medical
aesthetics due to its nearly painless procedure and long lasting results. This practice requires a highly skilled medical professional and top of the line medical gear.
Laser epilation is the process of removing unwanted hair on the body by using a concentrated light beam.The concentrated beam selectively destroys hair follicles to significantly reduce, or in some cases completely stop future hair growth.This process requires very precise hand movements, which is why adding foot pedal to actuate the laser is preferred.
The B62BA-10FT foot pedal is amongst the most popular foot pedals used in the manufacturing process of laser epilation equipment. This air actuated foot pedal is shockproof, explosion-proof and waterproof. The pneumatic foot pedal contains an internal air bellow. When pressed, it sends a pulse of air through a tube to an air switch which opens and closes the contacts to power the laser. Action may be momentary, alternate or sequencing.
B621BA Series | Hard Foot Pedal Description 
This hard foot pedal for heavy duty applications, has a soft internal foot bellow that sends a pulse of air to the air switch turning equipment on/off, creating a hands free operation.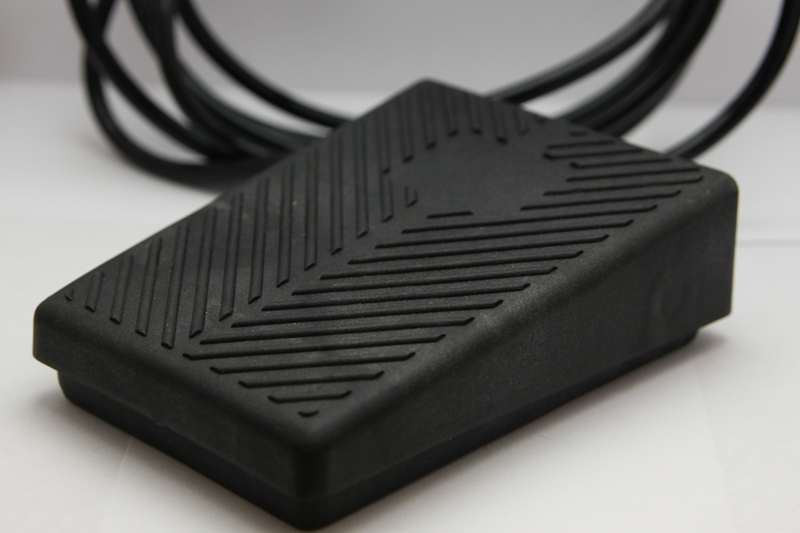 Rectangular Shape
5 or 10 feet Air Tubing (other options available, contact us with your requirements)
1/4″ O.D., 1/8″ I.D. Air Tubing (other options available, contact us with your requirements)
Black
Made from glass filled polypropylene.
Easy to clean and can withstand sanitization and cleansing products. 
MADE IN THE USA. UL and CUL approved. 
Presairs' Pneumatic Foot Pedals can be found in a wide variety of other applications such as cosmetic and plastic surgery equipment, image capturing such as MRI and X-Ray machines, dentistry equipment, and many more medical support equipment.
For other foot pedal and actuator options, click here.
To view air switch options to pair with your foot pedal, click here.