Presair now brings air switching and control technology to the home with SafeAire products. You'll rest easy knowing that your family is safe from electric shock electrical when using electric equipment in wet environments.
Presair's Air Switch Kits use a pulse of air to switch electricity on and off, safely isolating the user from the electrical current. Safe, versatile and easy to use, Presair's electric to pneumatic converter box works with many different appliances, such as TVs, lights, computers, stereos, garbage disposers, drill presses, and scroll saws. The air switch box instantly converts any standard 120 volt grounded outlet to a switchable connection.
Simply attach the air tubing, plug the electric to pneumatic converter box into the outlet, plug your appliance in and Presair's air switching technology is ready to perform on/off control of your appliance.
Wide variety of options available to meet original equipment manufacturers product requirements.
Highly stable with good repeat accuracy. All switches are 100% tested at high and low settings and at proof pressure.
Remote operation with complete electrical isolation. UL Recognized. Costs less than conventional controls
Presair switches are designed & manufactured in Eau Claire, Wisconsin, U.S.A.

Talk to a product specialist today!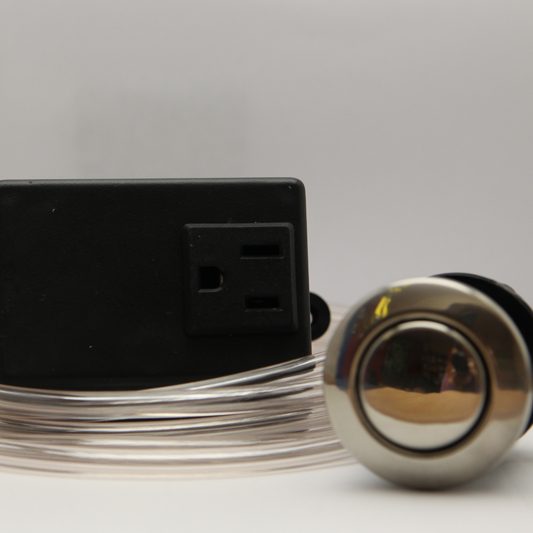 Garbage Disposal Air Switch
A convenient alternative to a wall switch, the stylish Garbage Disposal Air Switch Kits are air-activated and easily mount to the sink or counter top. Ideal for island installations, the Garbage Disposal Air Switch is compatible for all garbage disposers.
Hands-free on and off operation up to 15 amps! This foot-operated pedal offers press and release ease as well as an added measure of safety, simple press it once to turn it on, and press again to turn it off. The 10 feet long air tubing provides you the mobility to reach your router tables, scroll saws, bench top sanders, grinders, and more!