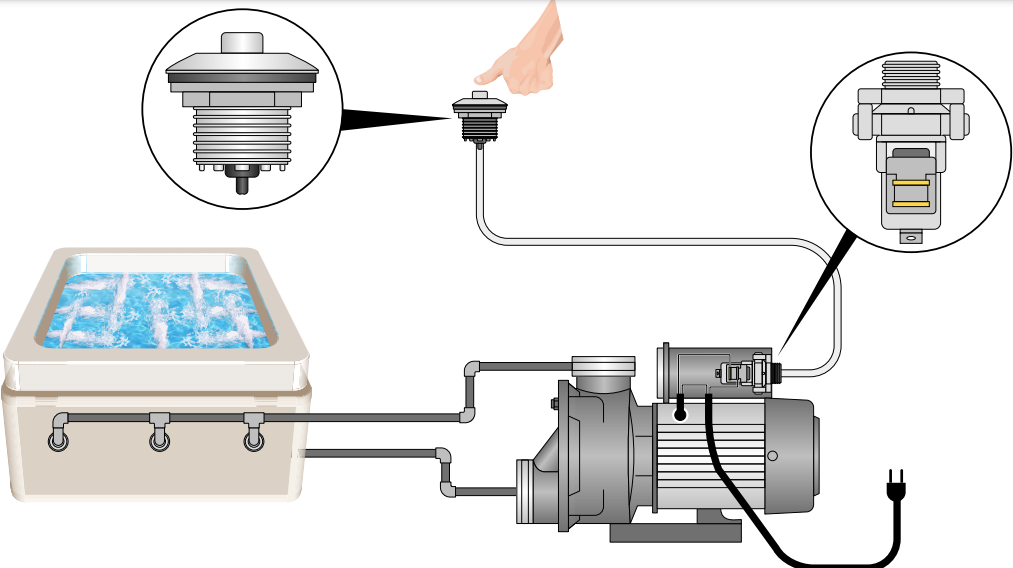 Presair designs & manufactures pool & spa air switches found in pool & spas worldwide. The system can be used as a direct replacement option to our competitors. Air switching technology is used to control various functions in pools, spas & hot tubs.
The Presair Air Switching System has a pneumatic push button located near the user and a pneumatic air switch located in the equipment's controller. When the user presses the button, a puff of air is sent through the tubing to the air switch. The puff of air causes a movement of a diaphragm inside the air switch that actuates the micro switches plunger, which opens or closes the circuit, controlling the pumps that operate water jets.
The Presair Air Switching Technology is a safe switching mechanism, as it eliminates the possibility of user's experiencing electrical shock by isolating the user from the electrical current at point of actuation.
Our Tinytrol Miniature Air Switch, Magictrol Sequencing Air Switching and push buttons are commonly used in the pool & spa industry. Watch the video below for more details!
Push Button Actuators 
Presair's push button air actuators are a safe solution when paired with our air switches. When the button is pressed it sends a pulse of air through a tube to our air switch which then operates a piece of equipment. Pneumatic air actuators create shockproof, explosion proof and waterproof system as there is no voltage at the point of actuation.
Air Switches
Our air switch products deliver complete electrical isolation with zero voltage at the point of actuation. The air switching system connects the air switch to an air bellow using air tubing. When the air bellow is pressed, it sends a pulse of air through the tubing actuating the air switch. There is complete electrical isolation with no voltage – low or high – to worry about at the point of actuation. No external compressed air is required.
Our Air Switches are available to perform single or multiple functions sensing.
Presair offers:
Complete air switching solutions
Tinytrol Miniature Air Switches
Magictrol Sequencing Air Switches
Printed Circuit Board Mount Air Switches