———————————————————————
GREAT FOR ISLAND INSTALLATIONS!
A convenient alternative to a wall switch is Presair's stylish Garbage Disposal Switch. The garbage disposal switch is air-activated and easily mounts to the sink or counter top. The Garbage Disposal Air Switching system is compatible with most waste disposals.
Using an electric to pneumatic air switch electrical box connected with air tubing leading to a push button, we are able to create a waterproof and shockproof environment when operating a sink garbage disposal.  A push button easily mounts to your sink or counter tops – either drill a 1 1/4" hole in your counter top OR use the hole for sprayer or soap dispenser on the sink top. Connecting the air tubing to the air button and the small white air spout on the converter box, a pulse of air can then be passed through the tubing from the air button to the converter box creating an air switching operation. Plug the single outlet converter box to a wall outlet, and plug the sink disposal into the converter box to create the operation. See diagram..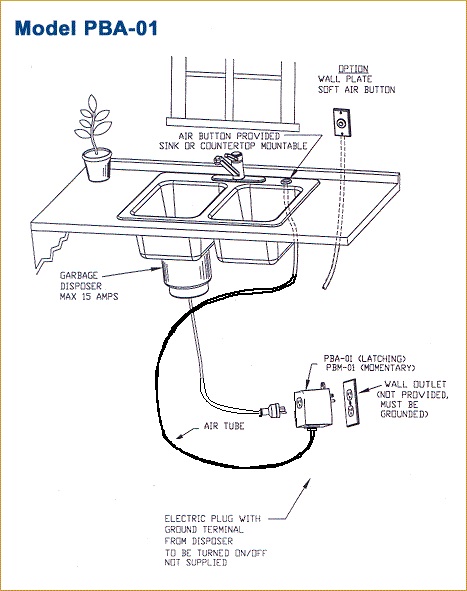 Garbage Disposal Air Switching SYSTEM
Single Outlet, Electric to Pneumatic Converter Box
Push Button Air Actuator
Plastic Nut
ft Air Tubing – *Note air tubing can be cut to desired length.
The air switch is available with either momentary (press on, release off) or alternate action (press on, press off). Another option available is an air switch paired with a relay to act as a safety cut out for power failure. If power failure were to occur, a relay inside the converter box with the air switch keeps the equipment off once power is resumed. Contact our direct technical support for more information.
Our push buttons are available in a variety of different colors and finishes to compliment most kitchen decor: white, chrome, brass and satin nickel. Hard wire and other custom options are available. Choose an option below for more information. BUY YOURS TODAY!