The Presair Air Switching System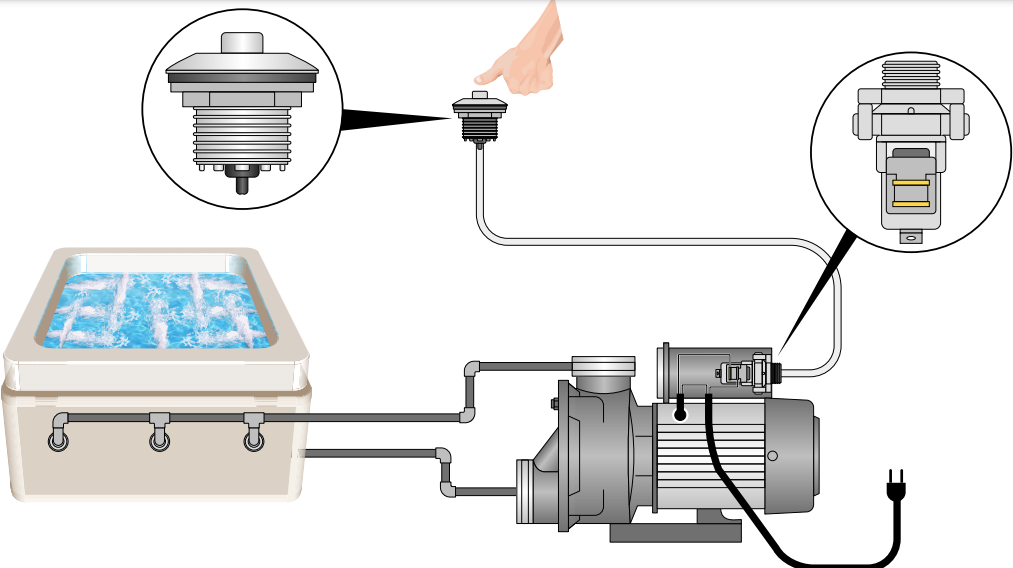 is found in pool pumps for spas and hot tubs worldwide. The system can be used as a direct replacement option to our competitors. Air switching technology is used to control various functions in pools, spas, and hot tubs such as controlling the jet pumps which in turn, operate the water jets.  Purchase your air switching system.
The Presair Air Switching System has a pneumatic push button located near the user and a pneumatic air switch located in the equipment's controller. When the user presses the button, a puff of air is sent through the tubing to the air switch, controlling the jet pumps that operate water jets.
The Presair Air Switching Technology is a safe switching mechanism, as it eliminates the possibility of user's experiencing electrical shock.
Air Switching For Pool Pumps
Push Button Actuators 
Presair supplies push button air actuators to coincide wit
h our air switches. Presair switches are UL and CUL Recognized. All switches are made in the United States and our direct customer service would be happy to help you find the right switch for your application. Air buttons are commonly used in pool and spa applications located spa side controlling the air switches connected to the spa's equipment, such as a blower, pump, heater, or lights. These small pneumatic controls make operating equipment in hazardous environments safe. View or purchase our push button actuators.
Air Switches
Presair air switches deliver complete electrical isolation with zero voltage at the point of actuation. The air switching system connects the air switch to an air bellow using air tubing. When the air bellow is pressed, it sends a pulse of air through the tubing actuating the air switch.
Presair air switches cost is comparable or lower than conventional controls to meet the needs of the original equipment manufacturer. View or purchase our air switches.
Want more info on our air switching technology? Check out the links below! 
Pool Hardware To Match Every Taste
Air Switching For Pool Heaters